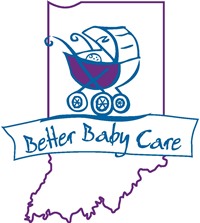 Working in collaboration with existing national, state and local organizations, the campaign focuses attention on the issues to improve the policies that govern the quality of care for infants and toddlers. The primary focus of this campaign is parent education, family support, and child care provider training that supports healthy, safe and developmentally appropriate care for infants and toddlers.
Through Better Baby Care, the Infant and Toddler Specialist delivers numerous training opportunities specifically created for child care provides, administrators, families and the community using resources from nationally recognized experts in the field, such as ZERO TO THREE and The Program for Infant and Toddler Care/ West Ed.
How Can We Help You?
Provide observations and feedback to assist you in providing the best care for your infants and toddlers

Conduct trainings and workshop to meet individual needs of your program

Assistance with establishment of relationship based practices, including Continuity of Care

Policy development around the care of infants and toddlers

Information for families in your program, including families workshops and trainings
For more information contact 4C's Infant Toddler Specialist at info@child-care.org or 866-200-5909.
Funded by the Indiana Family and Social Services Administration, Office of Early Childhood and Out-of-School Learning.