I Care for School-Age Children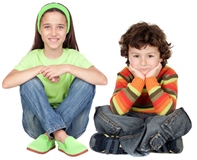 School-age child care plays an important role in meeting the needs of families and promoting healthy child development. Children participating in after-school programs are more likely to stay in school, improve academic achievement, and graduate. Children who participate in after-school programs are less likely to use drugs, become teen parents, or become victims or perpetrators of crime. School-age child care helps prevent issues that can arise in the absence of child supervision. It also provides opportunities to support and expand healthy growth and learning.
High quality school-age child care programs offer appropriate supervision and program structure. The environments offer a balance of active and quite time with ample opportunities for child autonomy and choice. High quality programs foster positive youth-adult relationships, develop good relationships with families, schools, and community partners.
How can we help you and your program?
School-age care providers may contact 4C for specific training and technical assistance.

Families may contact 4C for assistance with how their child is functioning in a school age environment.

4C may provide resources for staff orientation and specific school age care needs.

4C can provide resources focusing on the transition to and from school from child care settings.
For more information contact 4C's School-Age Specialist at 866-200-5909 or info@child-care.org.
Helpful Resources and Links
Funded by the Indiana Family and Social Services Administration, Office of Early Childhood and Out-of-School Learning.