I Care for Infants and Toddlers
"Good infant care is neither baby-sitting nor pre-school. It is a special kind of care that resembles no other." ~The Program for Infant Toddler Care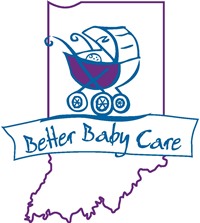 4C employs an Infant and Toddler Specialist, who is available to offer consultation services and resources to child care providers on a variety of issues that impact healthy care and development for infants and toddlers.
The Infant Toddler Specialist can come to your program and provide observations, immediate feedback and offer a plan of action that would include coaching, training and administrative support.
Through Better Baby Care, the Infant and Toddler Specialist delivers numerous training opportunities specifically created for child care providers and administrators, using resources from nationally recognized experts in the field, such as ZERO TO THREE and The Program for Infant and Toddler Care/ West Ed. Go to the Training webpage on this site to see a list of scheduled training or call 4C to request customized training.
For more information contact 4C's Infant Toddler Specialist at info@child-care.org or 866-200-5909.
Do you have a biter?
Helpful Resources and Links
Funded by the Indiana Family and Social Services Administration, Office of Early Childhood and Out-of-School Learning.