Each day more than 2.6 million children participate in CACFP at child care homes and centers across the country.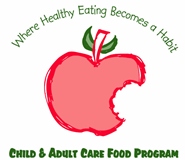 Providers are reimbursed for serving nutritious meals that meet USDA requirements. The program plays a vital role in improving the quality of day care and making it more affordable for low-income families.
Many different homes and centers operate CACFP and share the common goal of bringing nutritious meals and snacks to participants. Participating facilities include:
Child Care CentersLicensed or approved public or private nonprofit child care, centers, Head Start programs, and some for-profit centers.

Family Child Care HomesLicensed or approved private homes.

After School Care ProgramsCenters in low-income areas provide free snacks to school-age children and youth.

Emergency SheltersPrograms providing meals to homeless children.
Is your child care home not listed on the page above? Print off this flyer and encourage your child care provider to enroll!
CACFP homes and centers follow meal requirements established by USDA. Below are the types of foods served at each meal:
Breakfast
Milk
Fruit or Vegetable
Grains or Bread
Lunch or Supper
Milk
Meat or meat alternate
Grains or bread
Two different servings of fruits or vegetables
Snacks (Two of the four groups:)
Milk
Meat or meat alternate
Grains or bread
Fruit or vegetable
If you have questions about CACFP, please contact Kristin Lampkins at klampkins@child-care.org or 866-200-5909 ext. 118.
This institution is an equal opportunity provider.