With Paths to QUALITY, Indiana's voluntary quality rating system, providers demonstrate ongoing efforts to achieve higher standards of quality.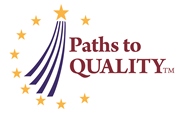 View a video that demonstrates how children and their families benefit from attending a Paths to QUALITY program.
Learn more about the Paths to QUALITY program.
Are you a child care provider interested in Paths to QUALITY? Click here.
You care about quality. These child care providers do too.
Funded by the Indiana Family and Social Services Administration, Office of Early Childhood and Out-of-School Learning.