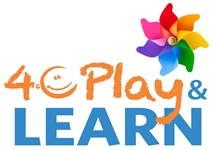 Recent Play & Learn Handouts
Did you miss a recent Play & Learn? The most recent weeks' handouts are available below.
Together Time Handouts

Caregiver Resource Handouts

School Readiness at Home
The first three years of life are a period of incredible growth in all areas of a young child's development and the perfect time for school readiness activities. Many people think of worksheets and educational games when they think school readiness, but in reality, all you need are things found in most homes! Check out these articles for fun ways to help the child you care for be prepared for school through play using items you probably already have.
Play Ideas Around the House
Favorite Children's Songs
Check out these all-time favorites, complete with activities to do to extend the fun!
Tips for Parents and Caregivers
For more information about 4C Play & Learn please contact the 4C Play & Learn Coordinator at 866-200-5909, extension 110 or 4cplayandlearn@child-care.org. 4C Play & Learn programs are made possible through the generous support of Welborn Baptist Foundation, Inc.
Funded by the Welborn Baptist Foundation, Inc.