In This Section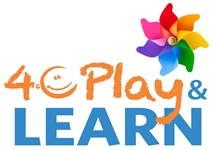 Caring for Children, Together
Do you care for your grandchildren? Do you care for nieces, nephews, or other young family members? Do you take care of a friend's child? Are you a stay-at-home mom or dad? 4C of Southern Indiana, Inc. has special programs to support the important work you do for children.
4C Play & Learn groups, for children birth to five and their trusted adult, provide activities designed to promote school readiness in a playful atmosphere. FREE 90-minute sessions, at various locations around Evansville and Henderson, help children develop their bodies, language and literacy, problem-solving and cognitive skills through play. Groups also provide plenty of opportunities for children to practice getting along with others.
What's it like at a 4C Play & Learn group?
A large variety of activities to choose from including blocks, pretend play, sensory, fine motor and large muscle play.

Opportunities for adults to meet other adults who care for children
Who comes to 4C Play & Learn?
Grandparents who care for their grandkids

Aunts, uncles, or other family members who help care for children

Friends who watch friends' children

Home-based child care providers
How do I find a group?
Tuesdays:
St. Paul's UCC
2227 W. Michigan St.
Evansville, Indiana 47712
9:30 a.m. to 11:00 a.m.
Wednesdays:
Good Shepherd Assembly of God
4330 N. Burkhardt Rd. (just north of Lynch)
Evansville, Indiana 47715
9:30 a.m. to 11:00 a.m.
Thursdays:
Eastminster Presbyterian Church
5501 Washington Ave.
Evansville, Indiana 47714
9:00 a.m. to 10:30 a.m.
Zion-Lippe UCC
9000 Copperline Rd.
Mt. Vernon, IN 47620
9:30 a.m. to 11:00 a.m.
Fridays:
Thelma Johnson Early Learning Center
631 N Green St.
Henderson, Kentucky 42420
9:30 a.m. to 11:00 a.m.
*This location meets during school year only
Saturdays:
Dunigan Family YMCA
6846 Oak Grove Rd.
Evansville, Indiana 47715
10:00 a.m. to 11:30 a.m.
*1st and 3rd Saturday Only
Vanderburgh County sessions are cancelled when EVSC is delayed or closed due to weather
What else do I need to know?
Pre-registration is not required

Families are welcome to move between locations and come to multiple groups each week

Play & Learn meets year round and young school age siblings are welcome during spring & summer breaks

Play & Learn is CANCELLED on most Federal Holidays and when the local school district is closed due to weather
For more information about 4C Play & Learn please contact the 4C Play & Learn Coordinator at 866-200-5909, extension 110 or 4cplayandlearn@child-care.org. 4C Play & Learn programs are made possible through the generous support of Welborn Baptist Foundation, Inc.