I have a School-Age Child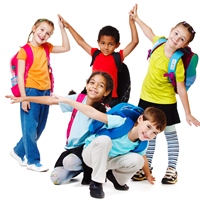 A school-age child is typically any child between the ages of 5 and 13 or said another way a child in kindergarten through the eighth grade. The term out-of-school-time care is meant to be an all-inclusive term for child development programming that occurs beyond the school day, including before school, after school, weekends, vacations, and summers.
There are several types of programs for school-age care. Each has advantages and disadvantages, and no program is right for all children under all circumstances. Some children may benefit from the slower pace and smaller setting of a family child care home, while others may need a larger physical and social environment. Children with special talents may enjoy a narrowly focused program that allows them to improve their skills, while other children may require highly varied programs that help them maintain their interests.
Is your child ready to stay home alone?
Roughly one-third of Indiana's K-12 children are responsible for taking care of themselves after school.
Working parents are more successful and productive at work when they know their children are safe in the hours after school. Working parents miss an average of eight days per year due to lack of after-school care (Brandeis and Catalyst, 2004).
Home is the place where a child should feel protected and safe. But what about those times when a parent can't be there? If there is no affordable after-school program or sitter available, when is it okay for your child to be home alone?
There is no right answer for every child. There is no magic age when a child suddenly becomes responsible and mature. But there are ways to evaluate your child's capabilities in order to make a more informed decision.
If you, and your child, are confident that the time is right, try leaving your child for short periods of time to test the results.
When is it OK for your child to be home alone?
How can we help you and your child?
Families may contact 4C for assistance with how their child is functioning in a school-age environment.

4C can provide resources focusing on the transition to and from school from child care settings.

4C can provide child care referrals for school-age programs.

4C can provide training opportunities on parenting topics.
For more information contact 4C's School-Age Specialist, at 866-200-5909 or info@child-care.org.
Helpful Resources and Links
Funded by the Indiana Family and Social Services Administration, Office of Early Childhood and Out-of-School Learning.