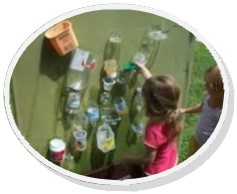 There is no better place for frequent nature play than in your own yard, even if it's a small one. It is handy, familiar, needs no transportation, and is easy for you to supervise. Home yards provide especially good nature play for young children.
Their interests will tend to focus on tiny, concrete discoveries rather than the "big picture". So while you notice the sunset, your young child will be looking at the "rollie-pollie" bugs, a sweet smelling flower, or a mysterious hole in the flowerbed.
There are some simple and inexpensive changes to your yard that you can make. But be aware that it is best if you are okay with a yard that looks a bit "messy"!
This month: Water Play!
What you need:
Water sources such as faucet, hose, sprinkler, or even rain barrel

Provide ways to move water such as spray bottles, buckets, milk jugs, watering cans, plastic pipes
Instructions:
Kids love water play! Provide water from a hose, faucet, sprinkler, or even a rain barrel. Add ways to move the water around since that is half the fun: buckets, milk jugs,
watering cans, plastic pipes, etc.
Develops:
Gross motor skills

Problem solving skills

Provides "child centered" play

Pretend play
Source: A Parent's Guide to Nature Play, Green Hearts INC