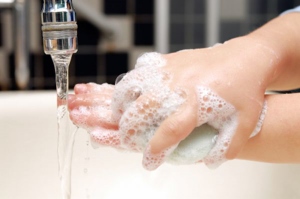 Why is hand washing important?
Hand washing is the single most effective practice that prevents the spread of germs in the early childhood setting. Teaching children why hand washing is important, when had washing is called for, and how to properly wash hands-as well as modeling the procedure-is part of best practices.
Who should practice hand washing?
The answer is simple. EVERYONE! Even infants should be taken to a sink with running water to wash faces and hands. If the infant is too heavy to hold at a sink, use a moist towelette.
Children are naturally attracted to water and bubbles, so it is easy to make this daily routine a lot of fun!
Model good hand washing throughout the day
Supervise children's hand washing and offer help as needed, but encourage a sense of independence
Make up a 20 second song to help with the "20 second rule"
Make the hand washing routine relaxed. Avoid "herding" children through the process
Hone conversational skills with individual children. "What did you learn about today?"
Tune in to each child's individual needs. "Look how smiley you are today!"
Children's Books on Hand Washing
Wash Your Hands!-Tony Ross
Oh, The Thing You Can Do That Are Good For You-Trish Rabe
A Germ's Journey (Follow It!)-Robin McNamara
Germs Are Not For Sharing-Elizabeth Verdick
Source:Caring for our Children, Second Edition, American Academy of Pediatrics, American Public Health Association, National Resource Center for Health and Safety in Child Care, U.S. Department of Health & Services; pages 97-140.