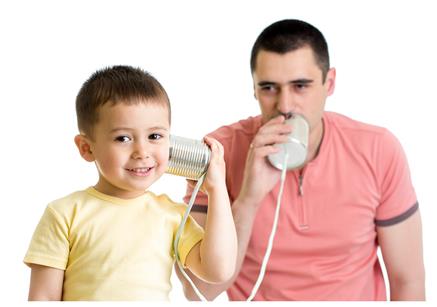 By Nicole Gardner-Neblett and Kathleen Cranley Gallagher
#8 Props, Please!
"Toys are the tools of children's work. Yet, certain toys, and other materials, can also be helpful in providing children with opportunities to practice their communication skills. By choosing materials that can encourage children to talk or listen to an adult or a peer, teachers can supply children with 'props' to help support children's language development. These props are objects that may stimulate conversations that include old phones, cell phones, puppets, dolls, wordless books, familiar books, pictures, play dough, and felt board cutouts.
What research shows:
The more children use an object to represent another object (e.g., using a plastic banana as a telephone), the stronger their language skills are.
Dramatic play activities are often when the most complex language interactions occur between teachers and children.
When adults and toddler talk about an object on which they are both focused, children develop better language skills.
Working with Infants and Toddlers:
When using a prop, ask children open-ended questions like 'What…?', 'Why...?' And 'How…?' Pause for a response. Provide the answers for preverbal infants and toddlers.
Label props and provide explanations about their function or purpose.
Use props to draw an infant's attention to interacting (e.g., shake a rattle to get the infant's attention, then draw it to your face, shaking. When the infant looks at your face, remove the rattle and begin a conversation).
Use props to engage in pretend play.
Introduce children to new vocabulary when possible.
Talk about the different ways a prop may be used."