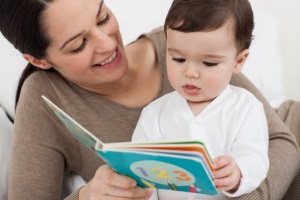 By Nicole Gardner-Neblett and Kathleen Cranley Gallagher
#7 Read It Again & Again & Again
"Sharing picture storybooks with children is one way to help them to learn new words. Some of these books will become favorites that children will ask for again and again. Re-reading the same book multiple times helps children to learn new words.
When an adult reads a story to a child for the first time, children are faced with many tasks that may make paying attention to new words difficult. They may need to focus on the plot, setting, characters and so forth. The second time a child hears a story they are more familiar with it and can begin to predict what is going to happen. After hearing a story many times, children can pay less attention to the other parts of the story and can focus attention on other details, like learning new words.
What research shows:
The more often adults read to children, the better the children's language skills.
One encounter with a new word is not enough to support word learning. Children often need to hear words many times before learning them.
Children learn more new words if a story is read to them multiple times than if several stories are read to them only once.
Working with infants and toddlers:
If time permits, after reading a book to a child, ask if she or he would like you to read it again. If 'yes,' read the book again!
Each time you read a book, draw children's attention to different words, details, pictures, or actions in the book.
With each reading of a book, ask different open-ended questions ('Who', 'What', 'When', 'Where', 'Why', and 'How' questions). Pause after asking the question. When appropriate, provide the answer.
Photo credit: http://www.salinelibrary.org/event/book-babies/2016-02-23/