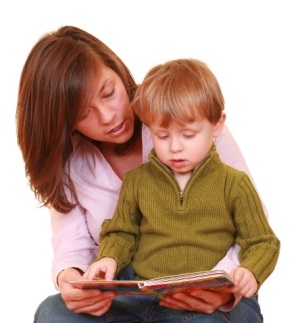 By Nicole Gardner-Neblett and Kathleen Cranley Gallagher
#6 Read Interactively
"Reading books to children is one of the most effective ways to provide children with opportunities to develop their language skills. Books often contain words that children may not commonly hear in everyday conversations, along with pictures that help illustrate their meanings. Adults can use books to start discussions with children about the stories and pictures presented and connect the stories and pictures to children's lives.
The opportunities for helping children develop their language skills with books are greatest when adults help children to become engaged by: 1) encouraging children's participation in the story, 2) expanding on children's responses, and 3) giving feedback. By interacting with children in these ways, adults give children a chance to practice listening and speaking skills that foster language development.
What Research Shows:
When adults read to children by asking complex questions, expanding on children's responses and providing encouragement, children's expressive language develops faster than when adults read in less interactive ways.
Children learn more vocabulary when teachers involve them in discussions about books.
The more discussions children and teachers have about reasons for actions or events in a story, the higher children's vocabulary scores.
Working with Infants and Toddlers:
Point to and label objects or actions in the book.
Use an expressive, animated voice when reading. If appropriate, use voices for the characters and imitate sounds or facial expressions presented in the book.
Talk about familiar objects like family life, faces, food, and toys.
Ask open-ended questions ('Who', 'What', 'When', 'Where', 'Why', and 'How' questions). For preverbal infants or toddlers, pause after asking the question. When appropriate, provide the answer.
For new words, say the word to the child and ask him/her to repeat it.
Define new words or provide synonyms for new words.
Expand and rephrase children's responses to questions.
Make connections between the book and the child's life (e.g., when reading a book that has a picture of a dog, 'You have a dog that's brown just like this one. What kinds of things does your dog like to do?').
At the end of the book, recap the story, repeating any new words or ideas."