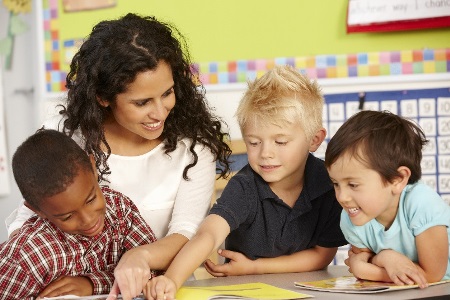 One of my most popular trainings is Positive Behavior Management, and at the end of that training I give tips to help be more proactive when it comes to managing behavior. One of my favorite tips from that trainings is the 4-to-1 ratio.
4-to-1 Ratio is a practice in which teachers increase the number of positive interactions with students as compared to negative interactions. Throughout the school day teachers and students share numerous interactions, such as discussing academic content or providing feedback. Research has supported the idea that there is a "critical ratio" of positive to negative interactions between teachers and students to best support and sustain constructive student-teacher relationships. That ratio is to provide 4 positive interactions (e.g. friendly conversation, nonverbal acknowledgement, praise, and so forth) to every 1 negative interaction (e.g. punishment, criticism, and so forth) for each student. It is important to note that this is not just about complimenting students. Though compliments are one form of positive interaction, it is about forming positive relationships in general through all kinds of interactions.
The 4-to-1 Ratio is meant to improve students' feelings of connectedness and positivity to facilitate the classroom experience. The purpose is to improve academic engagement and decrease classroom disruption as a result of the more positive classroom climate. By investing students in the value of the classroom through creating positive interactions, teachers can encourage better behavior and stronger feelings of student belonging in the classroom. Further, when students feel connected and more positive they are more likely to feel engaged and motivated to achieve academically.
Next month we will talk about how to implement the 4-to-1 ratio. You can also hear more about the 4-to-1 ratio, and other tips at my Positive Behavior Management training. Call 4C or go to our Training Calendar to find out about the next available training.