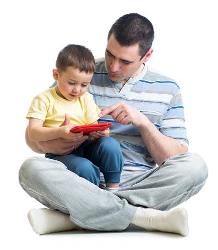 By Nicole Gardner-Neblett and Kathleen Cranley Gallagher
#4 Label It
"Labeling an object or activity is one way of helping children learn the names of objects and actions in their world. When children hear adults use labels for objects or actions, they have an opportunity to learn about how words are used and mat ne more likely to use the same words when trying to communicate with others. Adults can help children learn the names of objects or activities by focusing on one object or activity at a time.
Research shows:
When an adult labels or comments on an object upon which a child is focused, the child is more likely to develop a larger vocabulary.
When an adult and child are engaged in joint attention, or focused together on one object, and the adult says the name of the object, children are more likely to learn the word for that object.
Gesturing toward or looking at an object while saying the object's name helps children learn the name of the object.
Working with Infants and Toddlers:
Use descriptors to help children learn the names of different colors, shapes and sizes (e.g., 'The blue car is bigger and faster than the yellow car.')
Point to or gaze at an object while saying the name.
Say the names of familiar and new objects or activities."