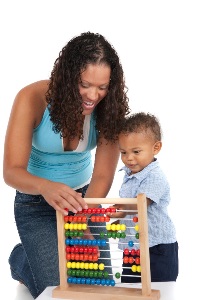 #2. Be a Commentator.
Commenting on daily actions and events is a wonderful way to give children examples of how to use language. Commenting, in this regard, is a caregiver talking about what they see, do, or even think about while a child is near them. This can help a child learn which words go with which actions.
Some research has been done on this topic and they have found that the more words a caregiver speaks to children, the better the development of the child's language skills. And, the more often caregivers model language, the more the child will talk.
As you are working with Infants and Toddlers here are some tips to keep in mind:
1.) Give detailed descriptions of what you or the child is seeing or doing.
2.) Comment on daily routines like hand washing, eating, or diaper changing.
3.) Model language for children by commenting on objects or events.
4.) Talk while demonstrating the different ways an object may be used.
The information for this blog is taken from More Than Baby Talk: Ten ways to promote Languages and Communication skills of Infants and Toddlers by Nicole Gardner-Neblett and Kathleen Cranley Gallagher.