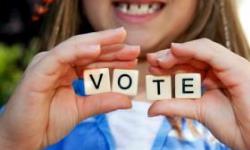 Like every election season, there are signs, bumper stickers, and ads for political candidates everywhere you look. People are constantly bombarded with messages on everything from the economy, jobs, and health, to war abroad, veterans and climate change.
As parents and educators it's our job to help children navigate this maze of issues, by giving them the critical thinking skills necessary to form their own opinions. The following tips were taken from the article, 'Talking Politics with Your Kids,' by Kaitlin Ahern. With these tips Kaitlin hopes that every child gets a well-rounded introduction to politics—and feels empowered to make his/her opinion count once s/he's eligible to vote.
Vote. That age-old phrase, "kids learn by example," is as true in the political realm as it is in other facets of life. As your child's number-one role model, make sure you're registered to vote and that you head to the polls regularly. Let your kids know when you're going to vote and which candidate you're casting your ballot for. If possible, bring your child with you so he can become familiar with the process.
Don't talk politics, talk issues. "Politics can be boring for kids, and they may not have a frame of reference for it," says Mary Jane McKittrick, author of the children's book Election Day, part of the Boomer and Halley series. But issues, like whether the school year should be longer or why they take standardized tests at school, can be discussed easily because they are relevant to the children's lives. Ask questions like "Do you think it's fair that the rules are this way?" or "If you could make the rules, what would you do?" It will get them thinking and caring about democracy and their role in it.
Connect laws to their lives. Kids—like the rest of us—encounter government in action practically every day, McKittrick says. When there is road construction on the way to school, it represents tax dollars being spent to improve the community. When a new playground opens, or old equipment is replaced with new equipment, it can be traced back to the local government. When they see campaign signs all around during an election cycle, it's another opportunity to explain what it's all about.
Let them lead the way. Take advantage of the teachable moments that arise when your child starts asking questions. "The thing about kids is, if you start talking about something they haven't asked about—if they don't open up the conversation themselves—it turns into a sort of lecture and they'll tune you out," Snow says.
Learn with them. If your child asks questions to which you don't have an answer, take time to look up the information together by surfing the web or doing a little research in the library. Capitalize on your kids' natural curiosity to help them build a solid base of knowledge on how our political system works. Bonus: You'll learn something, too!
Keep them connected. Encourage kids to keep up on current events by getting them a subscription to an age-appropriate magazine or website like Time for Kids or KidzTimez (kidztimez.com). They can also check out icivics.org, a nonprofit group founded by Supreme Court Justice Sandra Day O'Connor that teaches students civics through web-based games and other tools.
Show your support. When your child shows an interest in public service or a political group—even if it's not totally in line with your own views—make sure you back her up. "If your child wants to run for a position on student council or in a club, encourage her!" Kelly says.
http://www.nymetroparents.com/article/Talking-Politics-with-Your-Kids