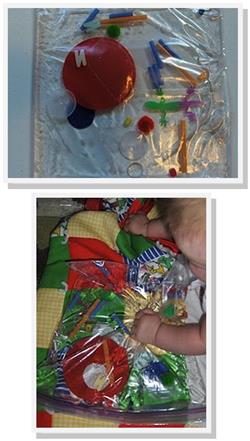 To make a sensory water bag, simply fill up a ziploc with little items and water. I used a lid, beads, pieces of straws, a toy lizard, foam letter stickers, and pom poms. Then, tape off all sides to make sure it doesn't leak. I used packaging tape. If you have a food sealer, use that.
The sensory water bag is great for visual tracking during tummy time or even to experiment with once they learn to sit up.  It's also a neat spin on the I-Spy Bottle for toddlers and preschoolers. 
Remember to always supervise baby closely while s/he is playing.