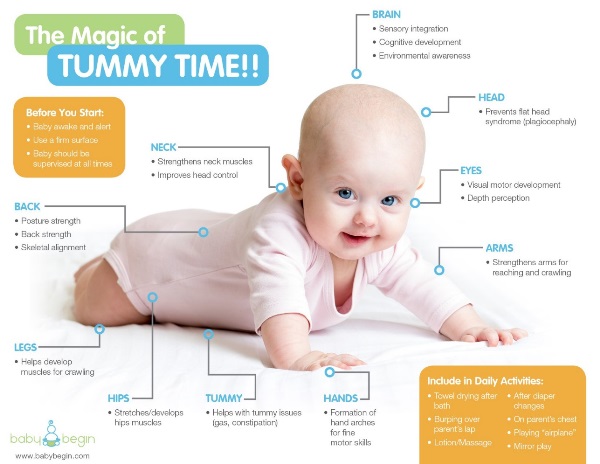 Tummy time is a crucial for the development of an infant. It helps build strength in their arms, shoulders and necks. It is also an incentive for infants to get their heads up to be able to look at the environment around them. Infants who do not get tummy time often can develop flat spots on their heads from being in one position for too long.
Before an infant is six (6) months old tummy time should be happening frequently depending on the infant's tolerance. After the infant is six months old, they may be able to handle frustration better.
Here are some tips about tummy time:
Make sure the infant is awake and being supervised
Place infant on a firm padded surface or thin blanket on the floor
Keep the area free of small or soft objects and out of heavy trafficked areas
Do not place infant face down in a crib or play yard and walk away
Never place an infant on a waterbed, sofa or cushions
Include very short intervals a few times a day, increasing time and frequency as the infant gets older
If the infant cries, be responsive and try to sooth them, pick them up if they seemed distressed
Make tummy time fun by using a play mat, plastic mirrors, and baby toys
Talk or sing to the infant and get down on the floor with them
Tummy to play – Back to sleep!