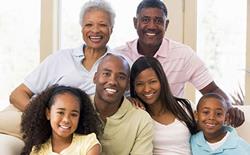 Feeling supported increases a family's ability to provide flexible, sensitive caregiving. Connecting families to one another can help build a support system that increases healthy development and improves the ability to engage in education. Often families are experiencing similar circumstances. Linking them to one another can create a natural environment where concerns can be shared, questions can be answered, support can be provided, and friendships can be developed.
It is important to think about joining families in a variety of informal and formal ways. Also of high significance is the creation of safe and respectful environments where families can ask for the type of information that they find helpful. Therefore, it is vital to think about the differences in how families want to connect. Just as people have different learning styles, they also have different communication styles and different comfortability levels in sharing with and relating to others. It is imperative to talk to or survey your families about how they might like to network with one another. Barriers like transportation and child care should also be addressed when surveying families and should be provided when possible.
Here are some ideas for linking families to one another:
Create a buddy system where new families can be paired with families experienced in the program. Hold special events for buddy families in order to introduce them to a wider network.
Provide a welcoming space where families can meet one another and share coffee or refreshments.
Utilize a parent message board where families can swap goods and services and share site, community, or personal announcements and resources. This can be done on-site, via a physical bulletin board in the entry-way or in the welcoming area (mentioned above). Facebook or Pinterest could also be utilized and could be run by someone at the site or by a family volunteer for each classroom or age level.
Have an on-site work day or clean-up day, where family volunteers can spruce up the playground or outside of the building.
Have a monthly toy-making class, where families can make developmentally appropriate toys and understand the importance of learning through play.
Have a family game night once every quarter.
Create a parent café where meaningful conversations can be had between families. This could be set up like a speed dating session, where common topics are set at each table. As families sit at each table, give them an allotted amount of time to discuss. Have a facilitator keep track of time and be responsible for moving families to the next table/topic.
Create small groups for fathers, teen moms, new moms, LGBT parents, grandparents, etc.
Invite community groups, such as libraries, pediatric healthcare providers, or nutritionists to come to the site to do a workshop or informative session.
Work hard to find what is right for your site's culture and you will connect families in a way that allows them access to a wider range of role models and resources.
Sources: Family Engagement Training, Katherine Herron, Early Childhood Center, Indiana University, 2015; John Hornstein and Lee Mackinnon "Understanding Family Engagement Outcomes: Research to Practice Series: Family Connections to Peers and Communities", http://eclkc.ohs.acf.hhs.gov/hslc/tta-system/family/docs/rtp-family-connections.pdf, Office of Head Start, The National Center on Parent, Family, and Community Engagement