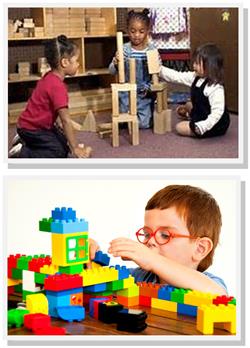 As you walk into a typical early childhood classroom, one of the most popular centers is the block area. There should be several types of blocks, props tied to the children's interests and experiences, open storage for easy access, and plenty of space and time to create and build familiar and unfamiliar structures and buildings. When setting up your block center area, remember the developmental milestones of play. Children will first build horizontally and then build vertically so you have to have a lot of room! The rule of thumb is that there should be enough room for three children to lay on their bellies and build. Children learn so much from playing with blocks.
Below are some of the important things that children learn from block play:
Problem solving. Sometimes it is intentional: "I want to build X. How do I do that?" Other times it is in-the-moment: "To go higher and add to one side, what can I use?"
Imagination. Children can follow their own plan, or they can share a friend's vision and work together to create something they never dreamed of.
Mathematics. Important concepts and skills are practiced and strengthened through block play including length, measurement, comparison, number, estimation, symmetry, balance.
Continuity and permanence. Block play engages spatial sense and motor abilities; it can be a solo or a group effort; block creations can stand for an indefinite period of time.
Creativity. Blocks and other loose parts can be moved freely by children, to be combined and recombined in countless ways.
Self-esteem. Children discover that they have ideas and that they can bring their ideas to life by creating, transforming, demolishing, and re-creating something unique.
Social and emotional growth. Blocks help children learn to take turns and share materials, develop new friendships, become self-reliant, increase attention span, cooperate with others, and develop self-esteem.
Development in all areas. Block play requires fine and gross motor skills. Blocks enhance children's problem-solving abilities, mathematics skills, and language and literacy abilities. Constructing "creations" builds self-esteem and feelings of success.
So when you are setting up your block area or if your block area doesn't meet the size requirements, you should make some adjustments for the betterment of the children in your classroom.