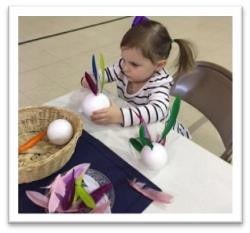 What is an "Un-Toy"? At 4C Play & Learn we refer to things that most people have around the house that can be turned into play materials as "Un-Toys". These inexpensive items can provide hours of fun for children while they practice important developmental skills.
Materials
• Variety of colors and sizes of feathers (need the type with a strong stem)
• Styrofoam or flower foam
• Variation: Use party toothpicks (longer toothpicks with cellophane on the ends) instead of feathers.
Instructions
Provide the materials and encourage your child to stick the feathers into the foam to arrange them in a way they like.
Develops
Eye hand coordination-develop competence at putting the feather stems into foam
Fine Motor skill-ability to grasp and hold onto small items
Creativity- placing feathers into the foam in a way that is pleasing.
Persistence-how to stick with an idea until it is finished
Source: 4C Play & Learn activity