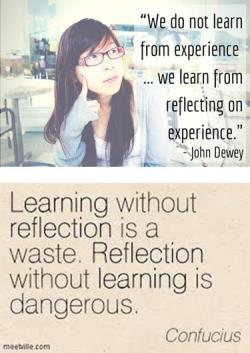 How often do you take the time to sit and reflect? Reflective teaching practices seem like a lofty idea when you are focused on meeting the daily needs of young children. Some of you might even wonder, "what does it mean to be reflective?"
Reflection is a skill that can be cultivated through practice. Some of us are more naturally reflective than others. So, what is reflection? John Dewey (1910) said that "Reflection is turning a topic over in various aspects and in various lights so that nothing significant is overlooked – almost as one might turn a stone over to see what its hidden side is like or what is covered by it."
How often do you think about your work in that sense? How often to you turn you work with children over and over in your mind to see all the possibilities?
In their article "Becoming a Reflective Teacher", Margie Carter, Wendy Cividanes, Deb Curtis and Debbie Lebo of Harvest Resources Associates offer the following description of a reflective teacher:
A reflective teacher…
- Examines his or her own reactions to children or their actions to understand their source
- Is curious about children's play and watches it closely
- Documents details of children's conversations and activities
- Takes time to study notes and photos to puzzle out what is significant
- Eagerly shares stories about children's learning with families and co-workers
- Asks co-workers and children's families for their insight
- Reads professional literature to learn more
- Shows children photos and stories of themselves to hear their views
- Changes the environment and materials to encourage new play and learning possibilities
When teachers take the time to reflect on their work, children win. A reflective teacher cannot offer children activities based solely on the teacher's ideas. When teachers become reflective they offer children experiences that are truly meaningful to everyone in the classroom.
In order to be truly reflective we have to do more than just think about things. Using a tool for reflection can be a great way to deepen our own understanding and expand our thoughts. Harvest Resources Associates have created The Thinking Lens™ to aid in this process.
What I know is that by embracing reflection in your practice, you will become more engaged in your work with the children which will lead to more satisfaction with your work. This can truly change your life and the lives of the children you care for.
Your Paths to QUALITY™ Coach can help you to work on reflection skills. You can also check out the following resources:
Becoming a Reflective Teacher (article TYC)
http://www.naeyc.org/files/tyc/file/TYC_V3N4_Reflectiveteacherexpanded.pdf
By Margie Carter and Deb Curtis:
Learning Together with Young Children
Reflecting Children's Lives: A Handbook for Planning Your Child-Centered Curriculum
Powerful Interactions: How to Connect with Children to Extend their Learning – Judy Jablon