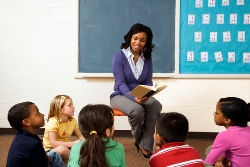 Throughout the community, students and teachers are counting down the days to summer vacation. For child care centers, however, they are continuing to plan for their students. The Evansville Vanderburgh Public Library has resources and staff that can help you get ready for the fun summer months at your center!
EVPL's newest online resource, Beanstack, was unveiled just two weeks ago. Beanstack allows parents, and children, to personalize their reading adventure. Designed for children ages 0-12, Beanstack is a tool for families to track and incentivize as they read. Weekly recommendations, learning tracks, and reading lists keep the quest for literacy fun! Encourage parents at your centers to begin using Beanstack with their children. You could also create an account for your classroom for help in planning book lists and lessons.
If you are looking for other resources to help in your lesson planning, be sure to check out the Educational Materials Center in Central Library's READ Center. The Ed Mat Center is designed to support local teachers by providing examples of learning resources typically used at the Pre K-12 levels of instruction. Teachers who live outside of Vanderburgh County but teach in the county are eligible for an annual courtesy library card with proof of employment. You can also call the READ Center if you would like assistance in requesting books on a specific topic and grade level.
There are expert children's staff members at Central, McCollough, Oaklyn, North Park, and Red Bank to assist you. We will be happy to help you find books appropriate for your classroom or show you how to use EVPL resources. If your care center is able to take field trips, we would be happy to set up a visit for you. These visits can be adapted to fit the needs of your classroom's curriculum and learning goals.
EVPL is never far away! Be sure to check out all of our services and resources at www.evpl.org.