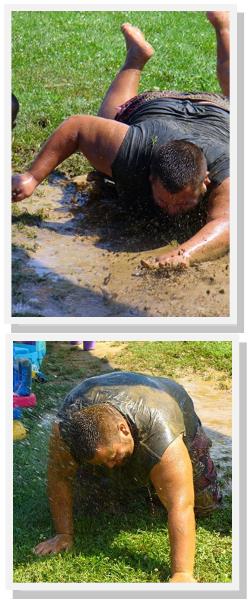 Did you know that there is an International Mud Day? Mud is celebrated across the globe on June 29th. Why do we celebrate mud and its importance? The creators of International Mud Day wanted to find a way to help all of the children of the Earth feel closer to each other…and what a better way to do it than through the Earth itself?
International Mud Day began in 2009 at a World Forum event, when Gillian McAuliffe from Australia and Bishnu Bhatta from Nepal got together to talk about ways to encourage feelings of community and appreciation for the world around us. The discussions that followed have inspired educators, children and families across the globe to celebrate International Mud Day together each year on June 29. It doesn't matter how old you are, your race, or religion…when we are mud covered we all look the same. International Mud Day has its own Facebook page where you can join the international fun.
There are numerous ways to celebrate Mud Day, but the only thing they have to have in common is that you have to get muddy! Mud Day is especially fun for children, because who likes to get dirty as much as children? One of the funniest activities that would be perfect to do is making mud sculptures or mud cakes. It's easy to adjust the consistency of the mud you're using by simply adding a little more dirt or water depending on what you want to make. Yet another easy way to enjoy this day to the fullest is to make a homemade mud pit using a blow-up pool. Not only is this cheap, but it also makes for a truly unique experience. All you have to do once you've bought a small blow-up pool is fill it with mud that can easily be done using a mixture of earth and water that your children can then splash around in.
These are just a few suggestions for what to do on International Mud Day. You and your children should use your imagination and see what happens. Just make sure that you're prepared to throw out your their clothes once you peel them off, because there is no way those clothes will ever get clean again. Happy Mudding!!!