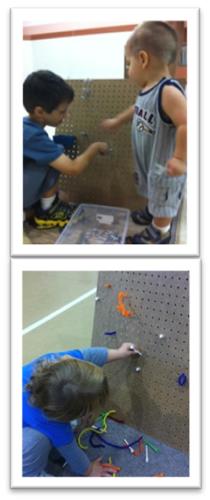 What is an "Un-Toy"? At 4C Play & Learn we refer to things that most people have around the house that can be turned into play materials as "Un-Toys". These inexpensive items can provide hours of fun for children while they practice important developmental skills.
Materials
• Sheets of pegboard material-attach to the legs of a sturdy chair with twine, pipe cleaners, etc.
• Golf tees and various lengths of pipe cleaners to poke through the holes
• Tool variation: Use traditional pegboard hooks and things to hang like washers, keys, small, light-weight wrenches or other small tools with holes in the handles
• Kitchen variation: measuring cups, spoons, sippy cups, plastic mugs, Tupperware lids, etc.
Instructions
Provide the materials and encourage your child to poke hooks through the holes and hang objects, or even create pictures with the golf tees and pipe cleaners
Develops
Eye hand coordination-develop competence at putting a golf tee or hook into a small hole
Fine Motor skill-ability to grasp and hold onto small items
Problem solving-the hook keeps falling out-what else can I try?
Persistence-how to stick with an idea until it is finished