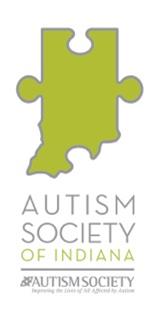 Autism is a spectrum disorder, because children with autism have characteristics that fall into a spectrum from very mild to quite severe. Every child with autism is unique, however it is generally agreed that a child with autism has some degree of difficulty with some or all levels of language and communication, social relationships and their response to sensory stimulus.
As a child care provider who may work with children with autism, there are a few things you should keep in mind. First and foremost, the sooner the child receives consistent and appropriate services, the better their chances for success. Caregivers should employ methods which are developmentally appropriate and well planned. All children should be planned for individually, with each of their specific cognitive, physical and social emotional development in mind, this is especially true for children with autism. Teaming with the child's family and other professionals who work with the child is essential for the success of the child. Being sensitive to the family's emotions will go a long way toward a happy caregiving relationship.
To learn more about autism spectrum disorders, caring for children with autism, or find trainings that may interest you, check out The Autism Society of Indiana's website at
http://www.autismsocietyofindiana.org.