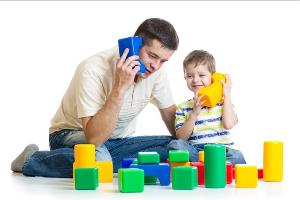 In her April 2015 publication "Lively Minds: Distinctions between academic versus intellectual goals for young children," Dr. Lillian Katz identifies one of the major conflicts that early childhood professionals face. For the past decade, much of our professional focus has been on play. Research shows us that play is the cornerstone for children's growth and development. We also know that play supports school readiness, but is all play equal?
Many programs struggle to balance playful learning with teaching academic skills to prepare children for school. Dr. Katz stresses that free-play and formal academic instruction are not the only two options for early childhood curriculum. She stresses that early childhood education must "provide a wide range of experiences, opportunities, resources and contexts that will provoke, stimulate, and support children's innate intellectual dispositions." Children are born curious and are naturally interested in learning. It is our job as educators to stimulate the children's natural curiosity, which rarely happens in strict academic instruction.
So, what are these "intellectual goals" to which Dr. Katz refers? "Intellectual goals and their related activities are those that address the life of the mind in it's fullest sense (e.g. reasoning, predicting, analyzing, questioning, etc.)……An appropriate curriculum in the early years then is one that includes the encouragement and motivation of the children to seek mastery of basic academic skills, e.g. beginning writing skills, in the service of their intellectual pursuits.
Think of your classroom. Do you allow children the opportunity to explore intellectual pursuits, or are their days dictated by the rules and ideas of the adults in the program? Dr. Katz states that "preschool programs are best when they focus on social, emotional and intellectual goals rather than narrow academic goals."
Take some time to study your program. Discuss with your co-workers how you might implement "intellectual goals" into your daily routine. Talk with parents about how you are supporting their children's natural ability to learn instead of pushing skills on them that could sour them to learning in the future.
If you would like more information about this topic, please plan on attending my upcoming training series Designing a Curriculum that Meets All Children's Needs. In this two part training series we will discuss the value of "intellectual goals," how to implement them in your classroom and how to document the work the children are doing.
Designing a Curriculum that Meets All Children's Needs
Part 1 – January 16- Bedford, January 23 – Loogootee
Part 2 – February 6- Bedford, March 19- Loogootee
Part 1 and 2 – February 20 – Princeton
Check out the online training calendar in January to register!
https://child-careorg.presencehost.net/news/calendar.html
Katz, L. (2015). Lively Minds: Distinctions between academic versus intellectual goals for young children. Champaign, IL: Defending the Early Years; New York, NY: Alliance for Childhood.