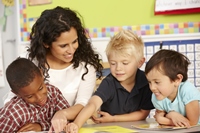 We all have had days where something has to change in the classroom or someone will go crazy. Sometimes all it takes is moving a shelf or switching chairs at a table. Below is a list of 10 ways to improve an early childhood classroom.
Best practices in early learning classroom setup & organization:
Establish traffic patterns that flow well…stop the race track!
Put materials where children can access them on their own.
Organize storage so children know where everything belongs.
Separate quiet centers (books, art, computers and reading) from loud centers (blocks, dramatic play and games).
Use real photography labels to show where everything goes.
Use labels with print to integrate literacy throughout the classroom environment.
But getting the physical environment in order is only the first step. Every day classroom management and routines have to run like a system in order to reduce transition time and allowing more time for learning!
Best practices in early childhood classroom management:
Develop a system that helps children know what to do and what to expect during circle/large group, small group and center time (e.g., color coding, center instruction charts, calendars).
Establish a consistent and predictable structure for each day that allows approximately an hour a day for choice time so children can explore the activities they enjoy.
Give children notice before activity transitions and be clear and consistent about expectations.
Use transitions as opportunities to teach (e.g., "If your name begins with the same sound as banana, baseball, or boat, you can choose an interest area now").