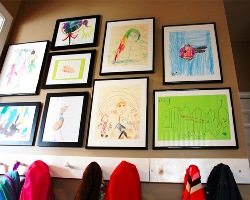 If your refrigerator door is overloaded with your children's art, you may want to try some of these inexpensive, easy to do framing ideas for attractive displays on your walls. Displaying your child's art will show them their creative efforts are valued, builds their confidence and can be an expression of your love for them.
You will need:
Mat Board (available at craft or art stores)
Art Clips (available at office supply stores)
Wooden Embroidery Hoop and Second- Hand Frames (check garage sales)
1. For small to medium sized drawings use a wooden embroidery hoop purchased at fabric or craft stores. Center the smaller hoop under the art and bring the hoops together to fasten. Trim off the extra paper around the edge, and hang on the wall.
2. To display a larger drawing (up to 8 1/2 "x 11"), purchase mat board. A craft or art store will cut the matting to the exact size of the art, or you can buy precut, standard-size matting. Center the drawing behind the mat board and clip them together at the top with colorful clips available at office supply stores. Place the matted art on a plate rack for displaying on your hutch mantel or bookcase. Because the art is attached to the matting with clips, the picture may be easily removed when a new drawing is brought home to take it's place.
3. Renovate second-hand frames you pick up at garage sales. Clean the wood, re-glue and paint if necessary. (Your child would love painting them with you!) Mount the artwork on sturdy cardboard, add the glass to the front and hang it where you can enjoy it and your child can feel proud.