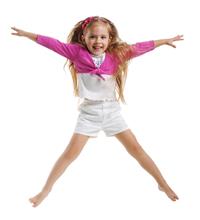 Are your preschoolers extremely active? They should be! In fact, children should really get at least 2 hours of physical activity a day. We, as adults, should set a good example and be active ourselves. Why?
Being active:
helps children feel good
builds enjoyment of activity for the future
strengthens the heart, muscles and bones
builds social skills and confidence
is fun!
Many times it is easy for the children to be active outside, being on the playground or playing games. They also have more space to run and things to climb on. Most likely, we have all struggled with providing activity in the classroom. Most often it has to do with a lack of space. If you have a large room for activity, that is wonderful. However, most of us aren't that lucky. There are other ways to encourage more activity in the classroom while still maintaining some control.
~Games in a controlled space~
"Duck, Duck, Goose" is often a favorite. I even had preschoolers make up other words, whatever they wanted. For example, one little girl said "Queen, Queen, Princess." It fosters creativity and thinking, as well as getting them up and running!
"Red Light, Green Light" can be done with the teacher calling out, or one of the children.
"Simon Says" can also have the teacher leading, or one of the children.
~Free Play~
Space can be an issue, but there is likely a small spot that you could designate as the large motor area during free play. Let the children play "basketball" with a soft ball or other soft object by tossing it into a basket or crate. They need an area where they can roll, climb, jump and tumble together.
~Transitions~
If you must walk in a line, don't just have the children walk. Have them work on different movements as they go somewhere in a line. Try hopping, galloping, skipping, walking on tip toes, etc. They will have fun and still get where they need to go.
~Music~
Music is one of the best and easiest ways to promote activity in small spaces. Some music suggestions:
"Let's Get Fit (Counting to 100 by 1s)" Movin' 2 Math- Jack Hartmann
"Sammy" Getting to Know Myself- Hap Palmer
"I Took a Bath in the Washing Machine" & "Silly Dance Contest" Jim Gill Sings The Sneezing Song and Other Contagious Tunes
"Bop Til' You Drop" & "Going on a Bear Hunt" Kids in Action- Greg and Steve
*Check out our training calendars in the near future for more training promoting activity!*
Send us pictures of what you're doing in your program and you might be featured on the 4C Coach's Corner page! Please send pictures to coaches@child-care.org