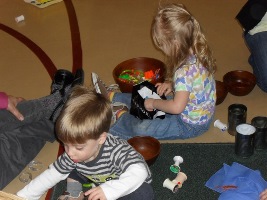 What is an "Un-Toy"? At 4C Play & Learn we refer to things that most people have around the house that can be turned into play materials as "Un-Toys". These inexpensive items can provide hours of fun for children while they practice important developmental skills. This month: Basket Of Stuff
Materials
Basket or storage tub large enough to hold all the items
A Variety of objects that don't typically go together
*At 4C Play & Learn our basket has tin cans with the labels removed, cotton balls, plastic insects, magnetic letters, shower curtain rings, empty thread spools, small gift bags, and wooden bowls but any collection of unusual things will work!
Instructions
None needed! Toddlers will enjoy putting things in and out of the containers, while preschool children will use the items to make connections--figuring out what is the same and what is different and sorting them into categories. Making unusual connections is essential for creative thinking and problem solving.
Develops
Fine motor skills
Creativity
Problem solving