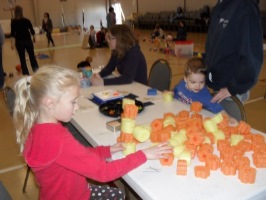 What is an "Un-Toy"? At 4C Play & Learn we refer to things that most people have around the house that can be turned into play materials as "Un-Toys". These inexpensive items can provide hours of fun for children while they practice important developmental skills. This month: Pool Noodle Construction.
Materials
2-4 pool noodles-the least expensive actually work best!
Box of toothpicks
Scissors or knife
Instructions
Cut pool noodles into sections about 2 inches wide using scissors
Encourage the child you care for to connect the pool noodle sections together using toothpicks to create robots, cars, animals, or anything else they can imagine.
Develops
Creativity, fine motor and problem solving skills