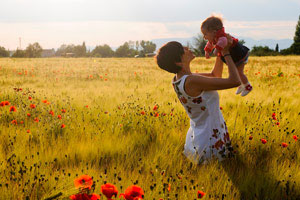 Parents with young children often feel they lack the time to keep physically fit. Caring for a baby is a 24-7 occupation. No wonder parents feel they can't go to the gym or continue to bowl in the weekly league.
With your infant:
-Hold your baby securely and dance to music. Sometimes your little one will like grooving to a salsa beat, and other times he'll need a slow, dreamy waltz.
-Walking with your baby in a front pack or stroller gets you out and moving. Your baby will like the changing scenery, or he'll take a snooze. Either way, you can walk as vigorously as you want.
-Exercise classes that include your baby and the use of his stroller as exercise equipment are popular. So are parent-child yoga and swim classes.
With your toddler
-Your child will love imitating stretching movements like touching toes, head circles, and side reaches. He will improve his balance and you'll gain flexibility.
-Be an active play partner at the play-ground. Show your child, don't just tell him, how to climb the ladder to the slide. Run in place while you push your child on a swing.
-Run after your child. Toddlers love a good game of chase. Roll a ball for your child to chase. Give him a head start, then race to see who gets to the ball first.
-Imitate your child. Follow him around and do everything he does. You will learn just how active a toddler is!
With your preschooler:
-To get down on your child's level, do leg squats or lunges. Play Jack-in-the-Box with your child as you do squats. Invite your child to imitate you.
-Lie on the floor and do crunches. Ask your child to play patty cake on your stomach. The patting sensation will engage all your stomach muscles.
-Take your child swimming. Be safe and stay right by his side. Hold on to the side of the pool and kick while he plays. Using a safe flotation device for your child, take him out to deeper water where you can tread water beside him. Treading water is a great strength and endurance activity.
-Run along when your child rides a tricycle at the park.
-When your child sees you enjoying physical activity, he will want to do it too. And he will have a model for gaining life long health, fitness, and recreation.
Jack-in-the-Box Rhyme
Crouch in a squat position facing your child and say:
"Jack-in-the-box, so quiet and still. Will you come out?"
Jump up and say:
"Yes! I will!"
Repeat.
Soon your child will be joining in.
Source: Parents as Teachers™ curriculum
If you are caring for a child birth to age five and are interested in enrolling in the Parents as Teachers™ program, contact the 4C parenting team at
812-423-4008, ext. 105 or pop@child-care.org