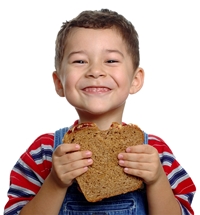 There are eight food categories identified as the cause of allergic reactions. These foods account for 90 percent of food allergic reactions, and are the food sources from which many other ingredients are derived.
These eight foods are identified as:
Milk
Eggs
Fish
Shellfish
Tree Nuts
Peanuts
Wheat
Soybeans
Initially, mild symptoms may occur after ingesting a food allergen. If not treated properly or promptly, these symptoms can become more serious in a very short amount of time and could lead to anaphylaxis.
Check out these resources on food allergies:
http://www.kidswithfoodallergies.org
Download: From Confusion to Confidence-KFA's starter guide to parenting a child with a food allergy.
http://www.foodallergy.org/
The Food Allergy & Anaphylaxis Network (FAAN)'s mission is to raise awareness, to provider advocacy and education, and to advance research on behalf of all those affected by food allergies and anaphylaxis.
http://www.fankids.org/
Food allergy and anaphylaxis network, food allergy news for kids. This website focuses of kids learning about food allergies, play games and activities, learn about different project, ask questions and share stories about their food allergies.
http://www.proprof.com/quiz-school/story.php?title=smellephants-food-allergy-quiz-kids
Smellephant's food allergy quiz for kids- An online quiz for children who are in danger of experiencing anaphylactic shot due to food allergies and must carry an epi-pen at all times.
www.eipen.com
EpiPen® and EpiPen Jr® Auto-Injectors are for the emergency treatment of life-threatening allergic reactions (anaphylaxis) caused by allergens, exercise, or unknown triggers; and for people who are at increased risk for these reactions.
http://www.fda.gov/Food/IngredientsPackagingLabeling/FoodAllergens/default.htm
This website will help Americans avoid the health risks posed by food allergens, Food Allergen Labeling and consumer Protection Act of 2004 (FALCPA).
For more information about food allergies, our CACFP Manager or Inclusion Specialist at 866-200-5909.