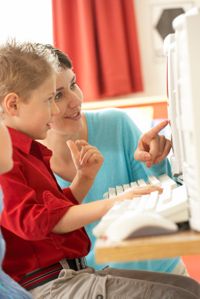 It's that magical moment at the end of the evening: the daycare kids have all gone home, the toys are (sort of) put away, and you've settled down on the couch with your iPhone/iPad/laptop/various form of handheld technology. Before you start scrolling through Facebook or pinning those recipes on Pinterest that you swear you'll try someday, check out these sites listed below. All of them are guaranteed to be added to your favorites list in no time:
Explorations Early Learning: http://www.explorationsearlylearning.com/ This website is the home of a variety of Early Childhood podcasts, including the hilarious and to-the-point "Child Care Bar and Grill" series hosted by Lisa Murphy, of Ooey Gooey Fame and Jeff Johnson. You can also find entries from Tom Copeland, known for his "Taking Care of Business" series.
Teach Preschool: http://www.teachpreschool.org/ This blog is run by Deborah Stewart, (who is a Hoosier!) and features a host of child-led activities for children in a family child care or center-based setting. Caregivers can explore activities for infant toddlers, light table games, outdoor/indoor fun, and gross motor play.
Hands On As We Grow: http://handsonaswegrow.com/ Hands On As We Grow (or HOAWG) is a blog all about learning to do practical hands on activities with kids. You'll find ideas for projects, gross motor activities, and fine motor activities regularly on the blog. They also feature a collection of play activities on a theme, such as what to do with all your crayons! You can sign up for a Free Weekly Activities Planner as well.
Teacher Tom: http://teachertomsblog.blogspot.com/ Tom is a preschool teacher who always looks for ways to get kids exploring their surroundings. He's an advocate for letting children get their hands on real tools and utensils. In his blog, Tom talks about how creative his children are able to be because they are given the right tools they need. A great site for helping hesitant teachers learn to trust their students.
Quirky Momma's Kids' Activities Blog: http://kidsactivitiesblog.com/ This site is hosted by Holly Homer & Rachel Miller, who are on a mission to reveal the kitchen junk drawer as a place of inspiration for kids' art, games and learning activities. They also have blog entries that are funny, poignant, and realistic. Check out their post from February 5th titled "Talk So Your Kids Will Listen"—it's will make you sit back and completely re-examine the way you listen to the chatter of the children around you.
What are some of your favorite websites? They can be early childhood related, or sites you find humorous or inspirational. Share them with us on our 4C Facebook page—look for the post titled "Websites You Love to Love." Visit http://www.facebook.com/4csouthernin
Happy clicking!
For more information, please contact Cory Lowery, Senior Paths to QUALITY™ Coach, at clowery@child-care.org, or call (812) 423-4008, x102.