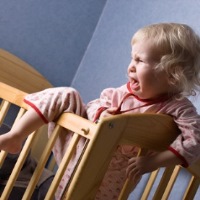 Bedtime routines play an important role in young children's development and may help ease separation anxiety that sometimes occurs in little ones. Going from wide awake to sound asleep is huge transition, and children need help learning to go to sleep.
• Babies are constantly nodding off in the car, a stroller, or a swing so need help recognizing their crib as the place where night time sleep happens.
• Toddler and preschool children have mobility and stamina, and need help bringing their activity level down to a place where transitioning to sleep is possible.
• A bedtime routine gives a child the structure needed to feel secure and provides order to his or her world. Once the bedtime routine begins, a child knows what to expect.
If your child struggles with going to sleep at night, try these tips:
• Keep activities before bedtime quiet and calm; avoid games, television or other activities that stimulate the senses.
• Stick to a consistent bedtime and follow the same routine each night with a predictable order for putting on pajamas, reading a story, brushing teeth, turning on the night light or music, etc.
• Ensure that your child's bedroom is conducive to sleep by keeping it at a comfortable temperature. Experts agree that the room should be dark, although some children feel more comfortable with a night light.
• Spend quiet time with your child each night and rock or pat him into a sleepy state whenever possible.
Sources: www.EzineArticles.com
www.livestrong.com
For more adult resources, visit the Play & Learn page or visit any Play & Learn location.