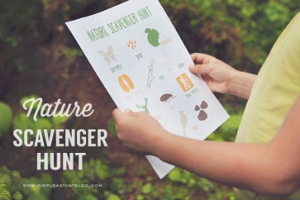 Scavenger hunts are fun! They add something extra to ordinary events and make them memorable.
They're easy to create and can be tailored to any theme, any age, any place. Scavenger hunts are usually thought of for parties or other large groups, but they're just as fun for small families or even individual children.
A scavenger hunt adds an element of competition, urgency and excitement to any everyday event and makes it something special. They're great for parties, but equally fun for rainy days, car trips, visits to new places, meeting new people or any time kids get bored. You can make almost anything—even chores—into a game by turning it into a scavenger hunt.
This month: Nature Scavenger Hunt
What you need:
Nature Scavenger Hunt

Outdoor Area
Instructions:
This game can be adapted for an individual child, small or large group. There are many different nature hunts that can be printed on line (see below) for different age groups or you can make your own to adapt to your child's ability. Check off items as you find them. You can also incorporate counting items, colors, etc.
Develops:
Gross motor skills

Fine motor skills
Source: handsonaswegrow.com/32-ways-kids-can-go-on-scavenger-hunts/