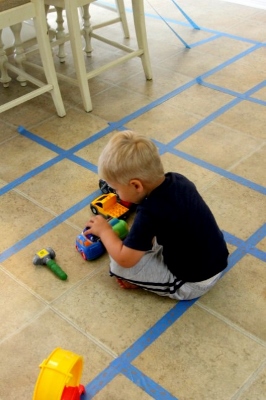 Kids LOVE tape!  There's something magical about the sticky stuff – you can pull it all off the roll when mom's not looking, you can use it to wrap gifts, and you can use it to fix or hang just about anything!
But tape can also be used for some great motor and coordination activities for kids.  Therapists and teachers love this simple tool because a roll of tape is small, lightweight, cheap, and easy to store.  Plus, it comes in all kinds of pretty colors and patterns to keep little ones interested and engaged.
What you need:
Masking tape or painters tape

Large area to play
Instructions:
Little ones love to pick at and peel tape off of any surface.  Stick several lengths of tape to the carpet or a table top and let them have at it!  They can peel it off, stick it back down, make patterns, or create pictures.
Use tape to create a game of indoor hopscotch, ring around the posies or tic tac toe on a rainy day.
Wrap a long length of tape around a favorite action figure or toy and see if kids can "rescue" it by unwrapping and peeling off the tape
Develops:
Gross motor skills

Fine motor skills
Source: www.theinspiredtreehouse.com - Fine and Gross Motor Activities with Tape