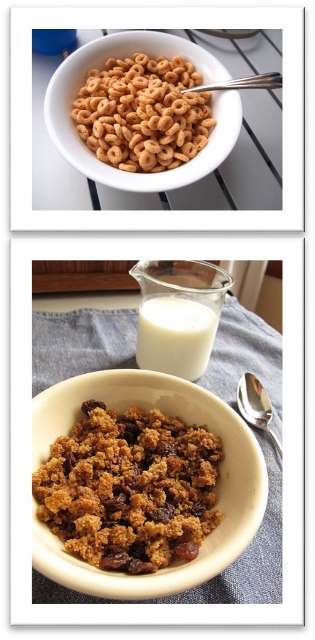 On October 1, 2017, All breakfast cereal served in the CACFP must contain no more than 6 grams of sugar per dry ounce. (7 CFR 226.20(a)(4)(ii)).
This new requirement will help further reduce children and adult participants' intake of added sugars, as recommended by the Dietary Guidelines.
Check your cereals out today and see if it meets the new upcoming requirements. You may be surprised to find they may already meet the requirements. There are many types of cereal that meet the requirement, you can use any cereal that is listed on any State agency's Women, Infants, and Children (WIC)- approved cereal list, this is found at: https://www.fns.usda.gov/wic/links-state-agency-wic-approved-food-lists
Alternatively, centers and day care homes may use the Nutrition Facts Label on the cereal packaging to calculate the sugar content per dry ounce.
First, find the serving size in grams at the top of the Label and the sugars listed towards the middle.
Next, divide the total sugars by the serving size in grams.
If the answer is equal to or less than 0.212, then the cereal is within the required sugar limit and may be creditable in CACFP.
Source: Institute of Child Nutrition & https://www.fns.usda.gov/sites/default/files/cacfp/CACFP02-2017os.pdf