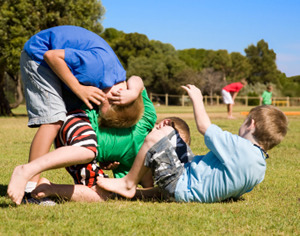 For many people rough and tumble play is considered the elephant in the room, but it shouldn't be looked at it that way. Rough and tumble play is vital to the development of children's motor skills and social and emotional interactions. Rough and tumble play is play using the full body, including body contact with another individual or body contact with objects or the striking of objects with hands, feet or another object.
Teachers and parents often mistake this play style for real fighting that can lead to injury, so they prohibit it. Rough and tumble play is distinctly different from fighting. Fighting includes physical acts used to force or control another person, either through causing pain or through the threat of pain. Real fighting involves tears instead of laughter and closed fists instead of open palms. When open palms are used in real fighting, it is for a slap instead of a tag. When two children are fighting, one usually runs away as soon as possible and does not voluntarily return for more. In appropriate rough play, children's faces are free and easy, their muscle tone is relaxed, and they are usually smiling and laughing. In real fighting, the facial movements are rigid, controlled, stressed, and the jaw are usually clenched. In rough play, children initiate the play and tolerate it by taking turns. In real fighting, one child usually controls another child and the other child may be in the situation against their will. In rough play, children return for more even if it seems too rough to adult onlookers. In real fighting, children run away, sometimes in tears, and often ask the teacher or another adult for help.
One of the best ways teachers and parents can support rough play is by modeling it for children. When adults model high levels of vigorous activity, the children in their care are more likely to play this way. Children also play more vigorously and more productively when their teachers or parents have some knowledge of the importance of rough and tumble play. Besides modeling, teachers and parents can do three specific things to provide for and support rough play while minimizing the potential for injury: prepare both the indoor and outdoor environment, develop and implement policies and rules for rough play, and supervise rough play so they can intervene when appropriate.
Next month we will talk about how to set up your environment to best support rough and tumble play.