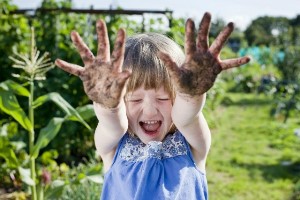 It would seem by all the tulips, new leaves and green grass that spring has finally sprung. It's a time of change and renewal. What a wonderful time to go outside and enjoy the great outdoors! It's also a great time to make changes to how we utilize our outdoor child care spaces. Some things to consider….. How do I use my outdoor space now? Do you take learning outside, and is it a natural extension of your indoor/classroom space? What benefits could more outdoor time bring to you and your staff, as well as the children that you care for in your child care? These are all things for you to think about when you look at creating or reinventing your outdoor learning space.
Outdoor learning environments have been shown through studies to have a calming effect and promote positive behaviors in children. Children benefit greatly from large open spaces where they can have many choices and a wide range of individual interests and needs. Children have an opportunity to use gross motor and fine motor by running, jumping, climbing and exploring the outdoors. Children need plenty of time, choices and loose parts that can be moved and manipulated. Materials such as open ended natural materials that can be used for more than one purpose are best for outdoor classroom areas. One of the other great benefits of more time spent in an outdoor classroom is the positive effects it can have on the adults. Studies show that increased outside time resulted in reduced stress in the caregivers causing a more enjoyable environment. They reported being more relaxed which then transferred to the children they care for. Teachers find it a more enjoyable learning experience when they were exposed to the outdoors more during the day as much as the children did. They were able to share in the learning experiences along with the children.
If you are just beginning your outdoor learning space or just wanting to update an existing outdoor learning space, small changes and additions can add much excitement and exploration for children. Items to consider adding might be paint, clipboards of paper and writing instruments and even clay. Other items for pouring, measuring and scooping, building materials, such as natural wood pieces and blocks for building and creating structures. Water tables are another great source for children to explore while outdoors. Gardening is another great activity that children. The possibilities are endless and only limited by your imagination.
Source: LearningNaturally.org