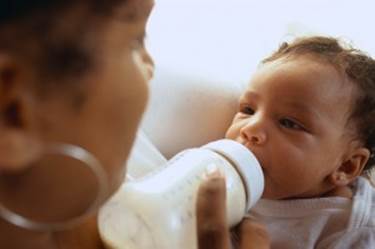 Are correctly serving infants in your program?
The current policy requires a center/home/ministry participating in the CACFP to offer Iron-Fortified Formula (IFIF) to infants and must inform the parent of the brand offered. It is the parent's choice whether or not to use this formula based on their preference and the infant's needs. The Parent may choose to supply breastmilk or formula for their infant. If the parent accepts the formula offered by the provider, they are giving their permission for the formula to be mixed for the infant by the provider/staff. The parent may be required to provide sufficient sanitized bottles each day for their child's use.
If this is required, the bottles must be labeled with the child's name/date and be taken home daily. If the parent chooses to supply formula and is low-iron fortified, non-iron fortified, or a specialty formula, a medical statement is required.
When the infant is 4 months old or older and is developmentally ready for baby food, the provider is required to offer additional, supplemental foods in compliance with the infant meal pattern as required by 7CFR226.20 These foods will include iron-fortified infant cereal, fruits, vegetables, meats, and meat alternates, when developmentally appropriate for the child. The Parent has the option to supply these supplemental foods and refusing the provider's supplemental foods.
Provider must always have keep on hand a supply of formula offered by the provider.
Note for Parents who receive formula through the WIC program: The infant is eligible to receive formula from the child care program as well as from the WIC program. It is the parent's choice which formula they want to use when in child care.