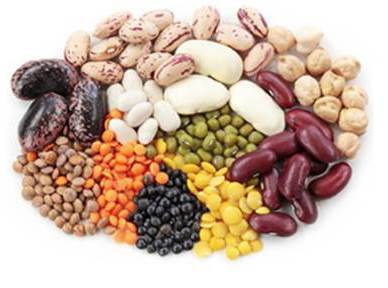 When you think of vegetables, do beans come to mind? If you're like most Americans, probably not. Most individuals consider legumes, such as dried beans and lentils, a source for protein instead of a vegetable. The great aspect of legumes is they are considered both a protein-rich food and a vegetable. How you count them toward your daily food group goals is your choice.
Beans and lentils are the quintessential super foods. They are packed with protein, vitamins, minerals, high quality carbohydrates AND fiber, and they have little sodium and no saturated fat. Pretty super, huh? Including legumes in your meals on a daily basis isn't just a great way to incorporate texture and nutrition, it's also a cost-effective way to maintain your food budget.
When following a 2,000-calorie meal plan, the 2015 USDA Dietary Guidelines recommends eating 1½ cup-equivalents of legumes each week.
6 Easy Ways to Add Legumes to Meals
1. Add lentils and beans to soups and casseroles
2. Add ¼ cup of low-sodium, canned kidney beans to salads
3. Snack on bell pepper slices, carrots and mushrooms dipped in hummus made with chickpeas
4. Mix low-sodium, canned black beans into ground beef or turkey when preparing tacos
5. Mash and season pinto beans to create a bean dip to bring to family picnics
6. Create salads with beans and lentils as the base (instead of pasta)
Carrie Taylor, RD, LDN Lead Registered Dietitian, Living Well Eating Smart Program, Big Y Foods