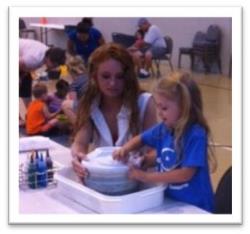 What is an "Un-Toy"? At 4C Play & Learn we refer to things that most people have around the house that can be turned into play materials as "Un-Toys". These inexpensive items can provide hours of fun for children while they practice important developmental skills.
Materials
• Salad Spinner
• Several colors of washable paint
• Paper cut to fit into the salad spinner
• Optional: yarn and hole punch
Instructions
Show your child how to put the paper into the spinner and help them squirt a small amount of 2-3 colors of paint onto the paper.
Close the lid tightly and show your child how to use the spinner.
After spinning, open the lid to see if you need to add more paint.
Optional: Make several using Halloween colors, then punch a hole in the top and string them to make a decoration for above your door, etc.
Develops
Fine Motor skill-ability to grasp and turn the spinner
Concept of color blending
Creativity- understand the concept that art doesn't have to make something specific
Source: 4C Play & Learn activity