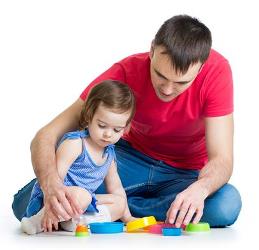 According to the book "More Than Baby Talk" by Nicole Gardener-Neblett and Kathleen Cranley Gallagher, there are 10 ways to promote language and communication skills in infants and toddlers. They define language and communication skills as "the ability to understand others and to express oneself using words, gestures or facial expressions." The methods and tools they discuss in their book are great ideas to implement in your classrooms.
The first method that is mentioned is "Get Chatty". Merriam-Webster defines chatting as "talking in an informal or familiar manner". This is a great way to give the children, in your care, examples of how words are used to convey how they are feelings, what they are doing, or to describe the objects they are seeing or playing with.
Research compiled by Gardener-Neblett and Cranley, suggests that a child's vocabulary will grow larger when adults use more words when speaking. Also, when teachers encourage back-and-forth conversations, children show greater complexity in their speech. And, children show better language development when teachers use high-quality conversations, including using rich vocabulary.
Some ways you can implement these tools: talk through or comment on routines, have a running dialogue through each step of a process. Paying close attention to diapering and handwashing times. Secondly, comment on the child's actions or objects the child is using, "Can you feel the rough paper? Can you feel the smooth surface?" Thirdly, respond to infants' non-verbal cues with actual language. When asking questions, pause for an answer, even if they cannot give you one. Finally, expand on the words the children are using, "I heard you say 'Mine!', Can you say, "That is my toy?"
"The more input adults give children, the more opportunities children have to learn how to express themselves and understand what others are saying." -Gardner-Neblett and Gallagher.
Next month we are going to be taking a look at the next method, "Be a commentator"