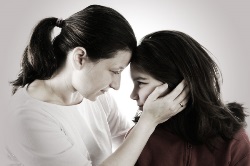 My husband passed away in August. I would like to share some tips that I have learned through this journey of helping my daughter deal with her father's death.
It helps to use examples with words that children can understand, like "the dead fish can't move or eat or swim -- ever again."
Burying the dead goldfish in the yard gives you a chance to say when bodies are dead they are often buried in the ground. If we have prepared our children for death before an important human being in their life dies, they may be better able to cope when that time comes.
Share your memories of your experiences and feelings when you were a child and a loved pet or person died. That gives your child an important way of knowing that feelings are natural and normal.
It's frightening for children to think that the sadness they feel when someone they love dies may overwhelm them and never go away. There can be real comfort in hearing that "the very same people who are sad sometimes -- are the very same people who are glad sometimes" and that it's true for all of us. It also gives them permission to laugh and have fun if that's what they feel. Enjoying something isn't a betrayal of the loved one's memory. It's a way to honor the loved one by appreciating life.
While it may seem that, for the moment, you've put your child's questions about death to rest, something may trigger the same or different questions later on. As with most challenging things in life, you'll have many opportunities to help your children work and re-work what death means to them.
You may want to encourage your child to make a photo album or a story book with memories of the person who died. It's one way to keep the memories alive in us and to keep the relationship alive in our hearts and minds. Grieving isn't about forgetting. It's about coming to accept the death little by little and finding ways to enrich our own family by continuing to remember our relationship with the person who has died.
It can help to spend some quiet time with your child doing something together that you both enjoy, like reading a book or taking a walk. Adults and children who are grieving need extra comfort and attention, and those moments of being together can nourish both you and your child. If it means temporarily changing some of the routines, you'll sense the best time to help your child gradually get back to "normal."
For more information visit: https://childdevelopmentinfo.com/how-to-be-a-parent/communication/talk-to-kids-death/