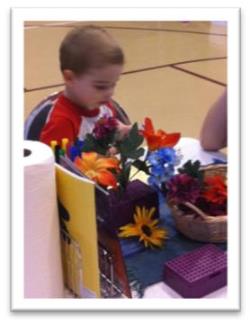 What is an "Un-Toy"? At 4C Play & Learn we refer to things that most people have around the house that can be turned into play materials as "Un-Toys". These inexpensive items can provide hours of fun for children while they practice important developmental skills.
Materials
• Variety of silk flowers you no longer use, cut into various lengths
• Flower foam
• Variation: Use a colander as a base
Instructions
Provide the materials and encourage your child to stick the flowers into the foam (or colander) to arrange them in a way they like.
Develops
Eye hand coordination-develop competence at putting flower stems into foam or holes
Fine Motor skill-ability to grasp and hold onto small items
Creativity- placing flowers into the foam or colander in a way that is pleasing.
Persistence-how to stick with an idea until it is finished
Source: 4C Play & Learn activity