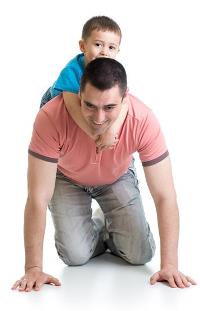 What is a Love Language? There are basically five different ways children, and all people, speak and understand emotional love: Physical Touch, Words of Affirmation, Quality Time, Gifts and Acts of Service. Think of each individual as having a "Love Tank", much like the gas tank in a car. Each time you speak the person's love language to him or her, you are making a deposit in their love tank, and giving them emotional strength that fuels them through the day.
• Physical touch is one of loves strongest voices and one of the easiest love languages to use unconditionally. Physical touch isn't just confined to hugs and kisses. Playing games or sports together with your child, especially older children and boys, is a great way for you to meet this love language as well as quality time. It can be as simple as sitting next to them on the couch.
• Words of affirmation are any form of verbal praise and affirmation that is genuine and affirming of how much love you have for someone. It's not limited to the words "I love you", though that is definitely important. Other examples include: Put a note in your child's lunchbox or on the counter with encouraging words or call someone at home whenever you think of them to say I love you.
• Quality time is focused time and giving undivided attention. It's giving someone the gift of presence, where you are going to their emotional and physical level of development. If you have you have some that has this love language, try to spend time with each of them individually.
• Gifts can be the most tricky love language. The most meaningful gifts become symbols of love, but in order for this one to work, the child must feel like the parent genuinely cares. It can't be a payment for something a child did, or it no longer meets the love language of gifts.
• Acts of Service is different than the daily things we do as a parent to our children. Loving service is a gift, not a necessity. Acts of Service is "an internal desire to give ones energy freely, and done without coercion". For example, when a child is asking you for help in fixing their bike, or finding a lost toy, or learning how to do something new, they are crying out for emotional love!
Now that you know a little about Love Languages there are clues to your loved one's primary love language. With love languages, you can pay attention to:
• How your child expresses love to you
• How your child expresses love to others
• Listen to what your child requests most often
• Notice what your child most frequently complains about
• Give your child a choice between two options, and see what they most frequently choose