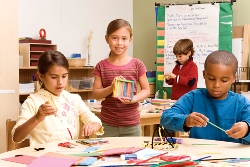 Getting involved in your child's education is both a great way to bond and help foster their success. If you've been feeling a little out of the loop, consider one of these strategies as a means for jumping back in and helping your children reach their educational goals.
Start at Home
Being involved in your child's education starts at home, with parents giving their children structure and routines. Establishing a routine that schedules time for homework, reading, discussion and sleeping allows your whole family to get in the habit of making learning a priority. Be as consistent as possible in maintaining that structure.
Check Your Attitude
It is important to make sure that everyone have a good and positive attitude about school and learning. When your children struggle, it's easy to become discouraged, and that may be reflected in your attitude. Enthusiasm for learning is contagious, and parents who model a positive attitude will see results.
Discover His Learning Style
Don't just help kids with homework or go to their activities, but find out if they are really understanding and learning what they are being taught. Each child learns differently. A straight-across-the-board curriculum is going to leave some kids not understanding what they are learning. So as a parent, take the time to find out if they are really learning and if not, find out their learning style (auditory, visual, or kinesthetic) and find ways to help them really LEARN. http://www.scholastic.com/parents/resources/article/parent-child/quiz-whats-your-childs-learning-style
Read
Many public schools require 20 minutes of daily reading. One of the greatest favors you can do for your child is to enforce this rule. If you want to go a step beyond that, enforce it for yourself, too. You can implement a family reading time, or just make sure you set a good example and read in front of your children.
Communicate
At the beginning of the school year figure out what the best way to communicate with your child's teacher, whether it be email, phone calls or written correspondence. Many teachers will send home weekly newsletters and periodic notes to parents. Try to be proactive in making sure you are aware of things happening in the classroom, around the school and what is going on district wide by looking for those papers. Kids can't always be counted on to pass the information along, so it's important to remember to check their backpacks for information. Also many teachers have a class website that parents can visit, which helps them stay current on what their children are studying. Some school districts, like the EVSC, offer online grade book systems that you can access, which displays your child's grade on each assignment and alerts you to any missing assignments. These resources are invaluable for keeping parents in the loop.
Using Time Wisely
Take advantage of any time you have with your children to do a little school work. For example, talk about school during dinnertime. It's a simple habit that shows your child that you're interested and can help you understand what they are learning. You can also use time spent in the car to review spelling words, math facts, or have your children read aloud to you. Families are busy, and using downtime affectively is a great way to support your child's learning without giving up all of your free time.
Go to School
Just being a presence at your child's school can be a great way to communicate that his or her education is important. First, you can eat lunch with your child, which will also be a great chance to meet their friends. Also, whether your child is active in extracurriculars or not, attending sporting events or other activities at your child's school is a great way to demonstrate interest and become more involved. Volunteering is one of the simplest ways of getting involved. Join the PTA. There's not a better way to know what's going on inside the school than that. Attend and volunteer at school fundraisers. Finally don't forget about the traditional parent/teacher conferences where details about your child's school work would be discussed.